Just prior to our marriage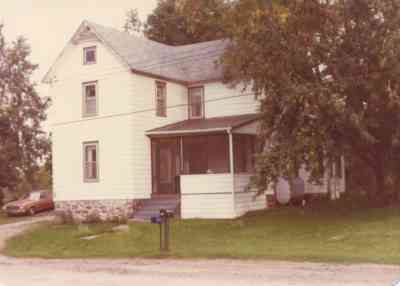 in January of 1978, we went house shopping. Marcia was in college at the time and David had an apartment in Gouverneur and we knew we would like to have a home of our own, preferably in Edwards. As a teacher, David wanted to live there and it was Marcia's hometown. Marcia's maternal grandmother announced to us that she would like to sell us her home if we were interested. She had been a widow for about seven years and was close to sixty. She admitted it was a good chance to get out of the responsibilities of home ownership while still keeping ties to the old family home.
We made the transaction in late December, although it didn't become official until around April. Gram Hurley moved to an apartment in Gouverneur during the first week in January and we moved in the week-end after our wedding. Marcia's grandparents bought the property in 1948 so she lived there just short of 30 years. As it turned out, we lived there about 34-1/2 years. It is the place where our children grew up. We sold it in October 2015, which means we owned/occupied it 37 years, nine months and five days. It was in Marcia's family over 67 years.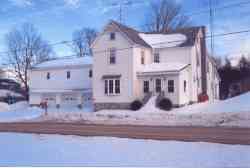 Gram Hurley lived long enough to see all the renovations that we did. The major changes would be the garage (three and one-half stalls, two stories, that connected the house and the old one stall garage), the enclosed front porch and the family room across the back. If Marcia's grandfather could see it today, he probably wouldn't recognize it. In fact, we once had an old friend come visit. He hadn't been there since before the garage was built. He pulled into the driveway, looked up at the garage and thought to himself, "this isn't their house." He pulled out and drove away and soon realized it was our place! He came back.
The shot at the top shows what the house looked like the first spring/summer we were there. The Hurleys had a general store there back in the 60's. There was a circular drive with a gas pump in the center. Soon after we moved in, we removed the tank and rerouted the driveway perpendicular to the road. Trees can also be seen in the photo. There were three trees in a row down the side of the house. The one closest to the road was uprooted in a wind storm in early 1979 and landed on the front porch. Not trusting their root system after that, we cut them down that spring.